Playa Ventanas is a wonderful place to go for an hour, or a whole day! Learn more below.
---
Where exactly is Playa Ventanas?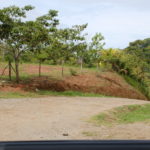 Click here for a Google Map ALSO here are some directions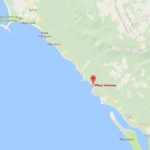 As anyone knows who has spent anytime in Costa Rica, destinations and beaches are NOT well marked. Be sure to remember these tips:
If you are driving fromthe north (Uvita/Dominical/etc), and you see a yellow restaurant on your left, you have missed the turn-off to Playa Ventanas by about 500 meters.
---
Where did the name come from? What does it mean?
Playa Ventanas gets its name from the two 'windows' that have been
naturally carved into the mountains at the beach. During low-tide it is possible to walk through the mountain via one of the two windows.  The word 'ventana' is Spanish for window. Hence, the name
---
How much does it cost to visit?
Until late 2015, there was no fee. However, the local communities have decided to offer some security and services on the beach, and now there is an entrance fee. Cost is approximately 1000 colones (~$2/person). It is well worth it!
---
Are there any restaurants on the beach or walking distance away?
No. Some of the appeal of the beach is its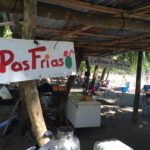 rustic nature. Although there are no restaurants, there are several stands that sell fruits, pipa fria and ceviche that are open.
---
Can you walk through the caves/ventanas (windows)?
Yes you can. However, as with most beaches in Costa Rica there not usually lifeguards at the beach. Therefore, any high risk activities can result in serious injury or death. It is only recommended that strong and experienced swimmers walk all the way through to the other side.
It is only feasible to walk through the mountain during low tide. During high tide the caves fill up with water.
Here's a GoPro Video of Nick Halverson walking through the caves.
Please Note: It is VERY DANGEROUS to walk through the caves and should only be done with protective gear and at the appropriate tide status. As recently as November 2017, a visitor was killed trying to go all the through the cave (window) when he was thrown against the rocks and suffered fatal injuries.